Miss Robin asked if it's been five yet… and I'm guessing it has. But that doesn't mean that "the five" ended leaving me with extra time on my hands, no-sir-ee!
We're busy around here, see?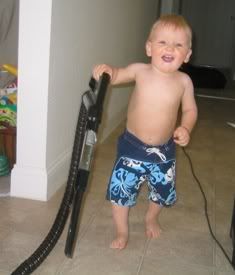 Beside all this intense vacuuming of baseboards
, we're also into making silly faces and spending mucho time in the little blue baby pool in our yard… thus, the silly face and the swim suit.
As of this weekend, we've shifted into moving mode.
Mentally, I'm ready to pack up the whole house in two days, load it onto a moving truck, clean the house for our final inspection, and wait for July 23rd to roll around. But it's not even the last day of May yet, and I'm not doing the packing (yay for the USMC providing movers!!), and I'm afraid it's a little early to begin the cleaning–we haven't even had our pre-inspection to let us know what needs to be done yet, and I'm thinking we'd end up failing the final if I cleaned now and lived in it until then.
(And, btw, military wives, any suggestions on the cleaning part? This is the first time, even though we've moved twice already, that we're moving from a house not slated for complete remodeling and so this is my first "real" inspection. Do you do it yourself, or do you hire a cleaner?)
So… we spent Memorial Day weekend going through all the junk-I-mean-boxes in the garage (yes, it is possible for a couple married only three years to have a ton of junk in the garage–really, it is! I know, I wouldn't have thought so either… it's ridiculous.) Now we're ready for a yard sale… everybody say it with me now, "Fun! FUN!" Ha.
Next on the docket (my mom is teasing me for my constant use of that saying… but it's my current buzz word–er, phrase) is graduation season (lots of em), my beloved's birthday (I won't tell you how old he will be, but, boyoboy, is he getting OLD! –said from the viewpoint of his wife of seven years younger, of course), three, count them THREE!!, work-related trips from John in the next six weeks (right before we move, I know. It's… insane.), a certain Beloved and Wonderful Person's surgery (which is all I'll say about that… you can ask The Person
), a week at our next duty station to find a house (minor detail, ya know), and that's about all. I think. Except for all the other little things that aren't worth typing. You know, LIFE.
My daily planner is my best friend these days. And it truly is the best, because on each day there is a little scripture across the bottom, which always seems to be perfect for the day. It amazes me that my Jesus would plan it so perfectly that this planner and His words to me through it would match up so well, even when the planner was printed long before I knew this summer would hold anything more than playing with my Little Man in our old house and spending afternoons outside with the baby pool. (Although today's verse scared me a little… it was about God resisting the proud and giving grace to the humble… not to mention that the very verses I'd just read in my devotions were on the same topic. And I don't think it was a commendation for my "humility." Yikes. I wonder what lessons THAT means are headed my way today? I'll let you know… maybe.)
I have been keeping up, albeit slowly, with my bloggie friends, but not always having time to comment right away. A weaning baby will do that to you… especially when the main "nursing chair" happens to be :ahem:, the computer chair, :cough, ahem, cough: and is a reminder to him every time I sit down that, oh yeah, now is probably a good time for some milkies! So most of my online time is spent either standing up at the keyboard just long enough to check my email, or during nap times, which are heavily competed for by the rest of Life and such. (What this means, in plain terms, is that I'm not really "back" in the blogosphere full swing yet, but am doing my best to peek in now and again. The reality is that while on this break, the Lord has dealt with me on some recurring identity issues, one of which is showing me that "who" I am in Him has absolutely nothing to do with how often I post on my blog(s), or how many comments I get/give, or "who I know", or any type of online "status." I'm just me… in Christ… loved by Him, and loving Him in return, striving for nothing other than knowing Him more closely and fully. Sorry, does that make any sense?)
Until next nap time, or bedtime, or snippet of captured time….
See ya, peeps.