If I needed a cure for my cleaning obsession, this was it.
Because, let me tell you, there was nothing that could be called "cleaned up" about my kitchen yesterday.
My cousin Tiffany and bestest friend Bethany came out Thursday night with the intention of filling our freezer with a bunch of scrumptious meals for after the baby is born… so we did.
After staying up, um, quite late on Thursday night–which was certainly not part of the plan, but couldn't be helped, now, with three girls needing some girlie talking time, could it?–we started out the day on Friday appropriately.
With a nice McDonald's breakfast, of course.
Then we got to work. A few hours later, that is.
A little after NOON, :cough:, we headed out to the grocery store, filling the cart with all sorts of goodness and tiring Troy out completely by the time we got home–perfect, because we needed his nap time to get started with our culinary endeavors.
Then we donned our aprons and WENT TO TOWN, peeps.
The whole shebang started out making two pans of enchiladas.
While we waited for the whole chicken to cook so we could use the chicken meat, save the broth and use the pan for the lasagna noodles…
We worked really, really hard on the uh, sweet stuff.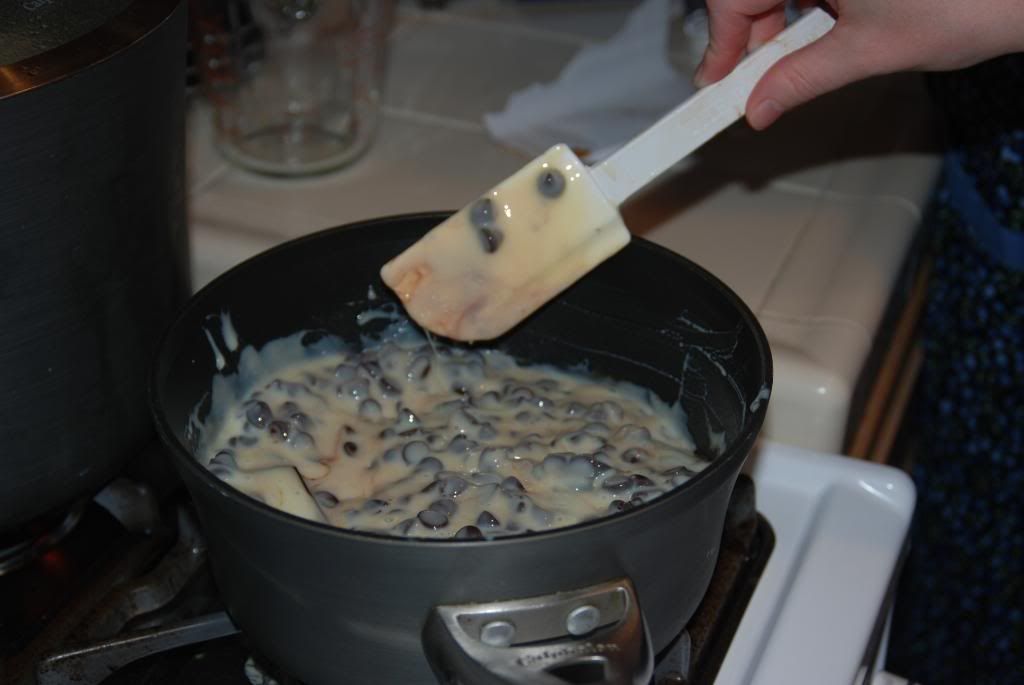 Lots and LOTS of sweet stuff.
Because what are good meals without a little dessert to finish them off?
We had to, of course, make two pans of each sweet thing, because we weren't going to fool ourselves. If we only made one, none would end up in the freezer. That's just the fact of the matter, peeps.
Never fear, though, me hearties… we did go back to regular food once the chicken was done cooking and we'd strained and saved the broth.
These chicken pot pies are the bestest. So we made two.
And then… we got kinda tired of taking pictures every two minutes, so we just cooked…. leaving out pictures of the lasagna. Many apologies. Because that one dish is probably the best one of any we made.
What with the loads and oodles of cheese, cheese and a little more cheese on every layer.
It makes my mouth water just thinking about it… ahh, remembering the first time I had this delectable treat at John's home a few days after he proposed to me. I was glad I was marrying into such a family that night.
I'm tempted to bake one of those pans (we made two–shocking, isn't it??) tonight. But I won't.
After the lasagna, I started to make the sauce for, of course, TWO dishes of baked spaghetti. But I was a little tired.
Thus explaining the double amount of water put in the sauce.
Poor little Troy had come down with the cold I had last week, and we all had some aching feet from being ON them all day, so we just followed his example… cleaned up and decided to call it a night.
Then we sat in the living room and did what the three of us do best…
(besides making lots of food to clog the arteries and cause gall bladder surgeries. Ahem.)
I won't tell you exactly what we were looking at, but just know that this wasn't posed. I doubt if you even entertained the notion that it was, though.
And, for the record–and because I just realized with glee that in the above computer-y picture I could pass for not being pregnant–I hope this is the last of these that will be taken for a Very Long Time: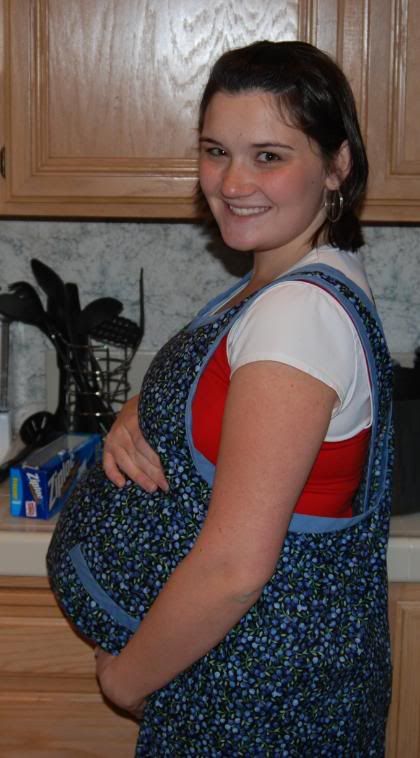 Any day now, peeps…. any day.
Today would be nice.
Anyway, here's the list of the damage done:
Two pans beef, cheese and rice enchiladas
Two chicken pot pies
Two pans of the quite famous "John's Mom's Lasagna"
Fourteen cups chicken broth, stored and frozen in 2-cup "portions"
Two pans chocolaty fudge (a third of one pan has somehow disappeared, leaving us all quite baffled)
Two pans of "Grandma Lee's Reese's Pieces" (almost HALF of one of those pans is nowhere to be found–we are about ready to call the authorities on this one.)
And the two things we didn't get to last night, but I'll do myself in the next couple days:
Two casserole dishes of baked spaghetti, with the correct amount of water in the sauce
A batch of peanut butter and chocolate chip cookie dough to be frozen in uncooked balls, ready to pop a couple in the oven as needed, for company and such. (Provided a certain man doesn't eat them all raw… not that he's ever been known to do such thing. Never. Ever.)
I think that between this and the meals the sweet ladies from church are planning to bring after the baby comes, we'll be good to go. A few pounds heavier, perhaps, but VERY good to go. Thanks a bunch, my Tiffy and sissy!